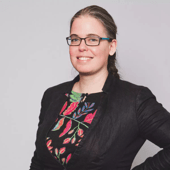 Carina Boom
Manager – Consulting
Heisan!
I april 2019 flyttet jeg til Norge. Jeg begynte i Avo samme år som seniorkonsulent. I Nederland jobbet jeg med forskjellige hurtig applikasjonsutviklingsplattformer og ønsket sterk å fortsette å utvikle meg i denne retningen.
Min bakgrunn før IT har vært innen arkeologi. Å finne ut historien bak et menneskeliv, gjennom gjenstander som ble etterlatt for å tolke, er og vil alltid være en av mine viktigste lidenskaper. Underveis var det vanskelig å bygge en karriere i felten, og jeg fant andre lidenskaper: Reise og dykking, og en sterk interesse for problemløsning gjennom teknologi og hjelpe folk til å forbedre seg.
Etter et interessant flereårig karriereskifte gjennom rådgivning innen turisme, markedsføring og salg, innså jeg at jeg aldri ville nøye meg med å bli god på bare én ting, og jeg ønsket alltid å lære mer, men jeg måtte finne det jeg virkelig ønsket gjør resten av livet.
Jeg deltok i en hurtigstudie på et nederlandske universitet og studerte Software Engineering, noe som ga meg et sterkt teknisk grunnlag med programmeringsspråk, rammer, databaser og fleksibilitet til å tilpasse meg forskjellige teknologier.
Etter å ha jobbet med flere Low Code-utviklingsplattformer som full stack-utvikler og IT-konsulent siden vår 2018, ble jeg med i det entusiastiske teamet til Avo. Det var en mulighet jeg ikke kunne gå forbi. Hvem vil ikke være en del av et flott team som virkelig gjør fremskritt innen digital transformasjon i Norge!
Seven quick questions
Age: 34
Education:  Archaeology på University of Groningen, the Netherlands // Software Engineering på Amsterdam University of Applied sciences (Fast-track)
Favourite food: Sushi
Dream vacation: Dykking i Karibia
Role model: Katherine Johnson i den virkelige verden, Jean Luc Picard i fiksjon
Fun fact: Mer enn 40 forskjellige typer sjokoladeplater blir uberørt i hjemmet mitt
Life motto: "Live now; make now always the most precious time. Now will never come again."