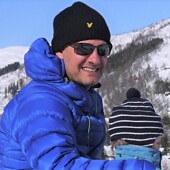 Ørjan Bye
Director, Head of Rapid Application Development (RAD) – Consulting
Hi!
I'm Ørjan and I'm a director in Avo Consulting, and lucky to have the opportunity to lead the exiting service area of Rapid Application Development. (RAD) 
I joined Avo in October 2019 after several years working as a consultant for a large tech consultancy, then one of the 'big four' and the last four years with strategic IT and portfolio management at the national level in the health sector. I decided to join Avo because of the people and the unique culture, and the appetite for really helping our clients with their most important problems and challenges. The company and my colleagues have so far not let me down! 
When I'm not around my fantastic colleagues in Avo, I enjoy time with my great family including my two children. Life-work balance for me includes a high level of flexibility at work, time with my family and the increasing level of activities with my young children, and being able to get away in the weekends. 
So, since we are on the career pages, I hope you will consider joining us, I'm very sure there is room for you on our great team, solving real problems for real people (or bears like Edward :) )

'Here is Edward Bear, coming downstairs now, bump, bump, bump, on the back of his head, behind Christopher Robin. It is, as far as he knows, the only way of coming downstairs, but sometimes he feels that there really is another way, if only he could stop bumping for a moment and think of it.' A. A. Milne