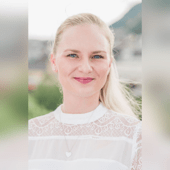 Marte Øen Iversen
Senior Consultant – Consulting
Hei :)
Jeg heter Marte og jobber på Bergenskontoret til Avo. Jeg liker å ta på meg nye utfordringer og å jobbe sammen med andre for å nå felles mål. Dette får jeg lov til å gjøre hver dag i Avo sammen med fantastiske kolleger og dyktige kunder. 
Jeg har bakgrunn innen markedsføring, kommunikasjon og prosjektledelse, og jobber med dette i tillegg til at jeg får innblikk i teknologi og utvikling gjennom prosjektene i Avo. Akkurat nå er det utvikling av chatbotløsninger for kunder som tar opp mesteparten av arbeidshverdagen. 
Noe av det jeg liker best med å jobbe i Avo er at du skaper din egen hverdag og har stor fleksibilitet til å jobbe med det du vil. Det sosiale miljøet er også superbra. Jeg får en skikkelig energiboost av kollegaene mine hver dag på jobb! 
7 kjappe
Alder: Født i 1992
Utdanning: Bachelor i Internasjonal markedsføring fra BI, master i International Marketing Management fra The University of Leeds. 

Favorittmat: Ingen ting slår en langkokt pasta bolognese!

Drømme-feriedestinasjon: Italia

Mitt forbilde: Marianne Wik Sætre, min tidligere leder i Fana Sparebank.

Skjult talent: Passer på at alle vet om talentene mine, så ingenting skjult dessverre.

Livsmotto: Lev hver dag som om det var din siste!