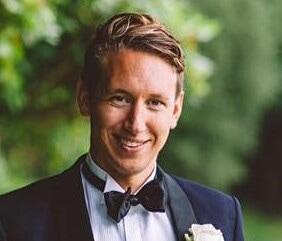 Hans Christian Torsvik
Head of People – Consulting
Hei
Jeg heter Hans Christian (går stort sett som HC i Avo) og førsøker å sjonglere livet som småbarnsfar til en energisk gutt og jente med jobben i Avo. Har fått vært med på reisen i Avo siden våren 2016. I tillegg til å få lære masse gjennom å løse viktige problem sammen med kundene våre, er jeg også gjennom min rolle som Head of People så heldig å få jobbe med å bidra til Avo skal være et bra sted å være og utvikle seg i for våre ansatte.

Syv kjappe:
Alder: 34 år
Utdanning Strategisk teknologiledelse fra Cornell University og NHH, samt litt samfunnsøkonom fra UiB
Favoritt mat: risotto and vaffler
Drømme ferie: Serengti, gjerne i en ballong
Role model: Mormor
Fun fact: bergenser med talefeil, - dialekten er så rar at det er blir forsøkt å skrive enn en PhD om den
Life motto: Go fast!