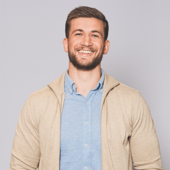 Petter Senum
Consultant – Consulting
Hallais! Mitt navn er Petter og jeg er konsulent i Avo! 

Da studietiden min nærmet seg over var jeg enda usikker på hvilken retning jeg ville ta inn i yrkeslivet. Som ingeniør blir man litt potet og kan ende opp i masse forskjellige yrker og bransjer, hvor de fleste virker interessante. Jeg slet med å bestemme meg for hva jeg ville. Etter mye om og men skjønte jeg at jeg måtte finne en jobb som konsulent hvor jeg kunne kombinere mine interesser for teknologi, forretning og god stemning. Etter litt harbarka googling fant jeg en arbeidsgiver som sprengte skalaen på alle punktene; Avo! 
Her i Avo får jeg jobbe innen mange spennende bransjer, på en haug med kule prosjekter, og benytte meg av interessante teknologier, sammen med utrolig dyktige folk. For en pakke! Og alt dette i skjønn harmoni med at vi virkelig mestrer kunsten å ha det gøy på jobb. For å oppsummere så er Avo på mange måter som en hockeysveis: Buisness in the front, party in the back. 
Syv kjappe
Alder: 26 år
Utdanning: Siv.ing. Industrial Asset Management 
Favorittmat: Vafler!!
Drømme-feriedestinasjon: Mars med Jeff Bezos
Fun fact: Johnny Depp har unnskyldt seg til meg, face2face
Mitt forbilde: Reodor felgen
Livsmotto: Det har jeg aldri gjort før, så det klarer jeg helt sikkert - Pippi Langstrømpe